Reset fault codes (MTune)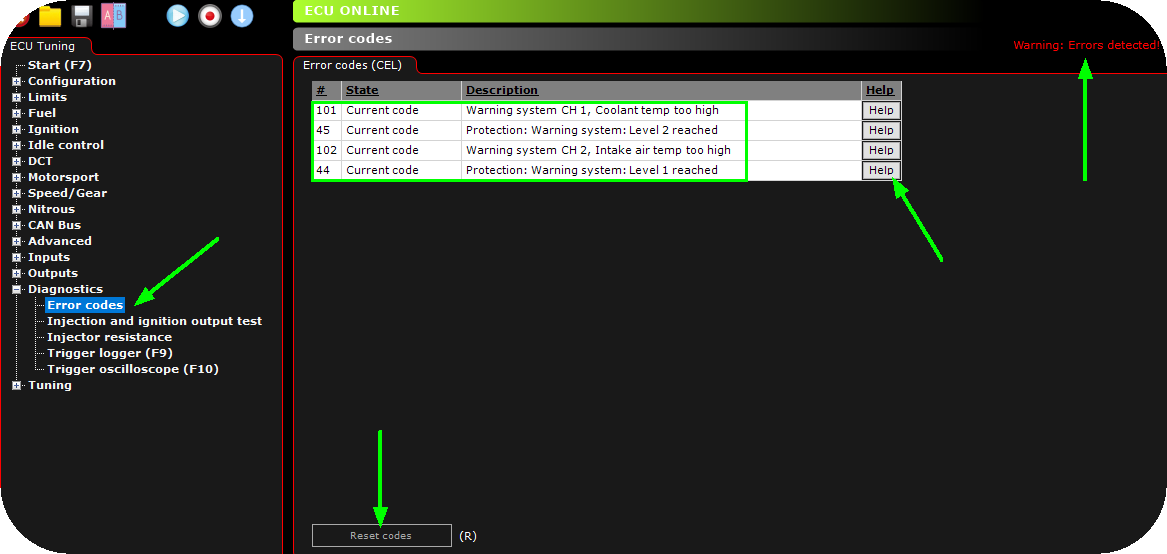 The error diagnostic page in MTune with options to get directly get help on the actual error code (press help button right after the error code to get extended help). There is also an option to reset the codes by clicking the Reset codes button or by pressing "R" anywhere in MTune.
Reset fault codes (MDash)

In the Diagnostics tab in MDash, longpress on the error code to erase.
Available ECU error codes in MaxxECU MTune
14 - E-Throttle overtemperature/short circuit
15 - VVT position sensor error
19 - Electromagnetic interference detected
21 - Configuration error: Incorrect fuel/ignition-mode
22 - Configuration error: Wrong cylinder count with current fuel/ignition-mode
23 - O2 sensor: Reference short circuit
24 - O2 sensor: Incorrect drive signal
25 - O2 sensor - Heating error
26 - O2 sensor: sensor to cold
33 - Trigger error: To few trigger-teeth before sync signal
34 - Trigger error: To many trigger-teeth before sync signal
35 - Trigger error: Trigger signal to early
36 - Trigger error: Trigger signal to late
37 - Trigger error: error in trigger pattern
38 - Trigger/CAM pattern expected error
41 - Protection: Boost limit activated
42 - Protection: Lean power cut
43 - Protection: EGT power cut
44 - Protection: Warning system: Level 1 reached
45 - Protection: Warning system: Level 2 reached
47 - External lambda sensor error
48 - Overvoltage protection cut
51 - High load on injector output
54 - O2 sensor: Invalid pump signal (sensor 2)
55 - O2 sensor: Heating error (sensor 2)
56 - O2 sensor: sensor to cold (sensor 2)
57 - O2 sensor: sensor to hot (sensor 2)
63 - E-Throttle: Position control error throttle 1
65 - E-Throttle: Position control error throttle 2
66 - EGT-sensor: Error detected on EGT-sensor 9
67 - EGT-sensor: Error detected on EGT-sensor 10
68 - EGT-sensor: Error detected on EGT-sensor 11
69 - EGT-sensor: Error detected on EGT-sensor 12
71 - EGT-sensor: Error detected on EGT-sensor 1
72 - EGT-sensor: Error detected on EGT-sensor 2
73 - EGT-sensor: Error detected on EGT-sensor 3
74 - EGT-sensor: Error detected on EGT-sensor 4
75 - EGT-sensor: Error detected on EGT-sensor 5
76 - EGT-sensor: Error detected on EGT-sensor 6
77 - EGT-sensor: Error detected on EGT-sensor 7
78 - EGT-sensor: Error detected on EGT-sensor 8
79 - EGT-sensor: Sensor short-circuit to ground
82 - CAN-bus: No connection with input module
83 - CAN-bus: No connection with PWM module
84 - CAN-bus: PWM module, over temperature or overcurrent
85 - CAN-bus: No connection with E-Throttle module
86 - CAN-bus: No connection with Traction module
91 - MaxxECU internal error: I2C-error
92 - MaxxECU internal error: High internal temperature
93 - MaxxECU internal error: Debug error
94 - MaxxECU internal error: Slave CPU error
97 - Hard fault/Memory protection
98 - MaxxECU internal error: Watchdog reset
99 - MaxxECU internal error: Bootloader error
101 - Warning system channel 1, High/Low